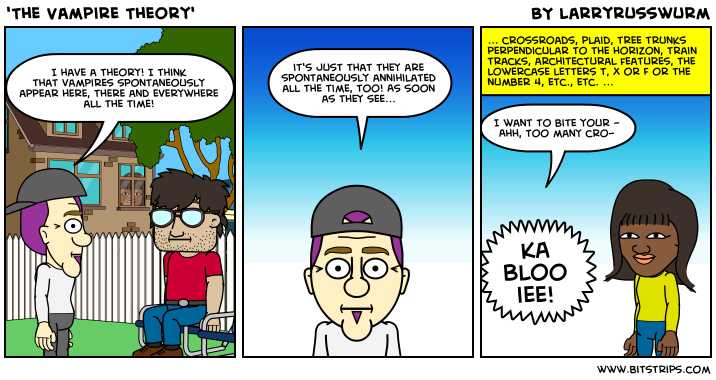 Check out Darla, the small face in the house, checking out what my two characters are talking about in the yard. Yeah! I checked out layering effects with this Bitstrips scene. I could put the character behind the fence or the tree or in the house as is Darla. But I could go back further, place the figure in the garage window, behind the garage or even so far back they were behind a cloud. That cloud thing is a big thing – you could keep your character at the right size for being in the foreview but when they're far back, part of their head obscured by a cloud, they will look like a huge monster from far back. So you can make anyone into godzilla sized monster. Maybe that will inspire a cartoon.
Unfortunately I couldn't get the characters to look like they were in the tree. Also, even though I bent my one character properly to sit in the chair, the closest chair arm disappears behind my character although it should be in front. So there are a couple minor mistakes in the layering of this first scene.
Experiment with Bitstrips scenes or even with things I haven't discovered at bitstrips.com .