In the 1993/1994 school year, I contributed political cartoons to my York University student newspaper. So all of the following cartoons featuring Jacques O' Christmas Tree were published in the Lexicon back then. I'll try to make the jokes clearer with what I write below each cartoon.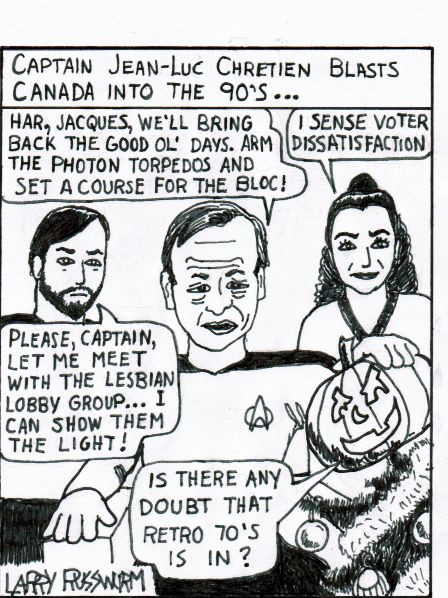 The day I had to have this cartoon in by, to meet the deadline, was the same day that people voted in the 1993 federal election. So I gambled and followed the pollsters and figured Jean Chretien would win the election. The Bloc came in second, but all they needed to do was win a couple seats for this cartoon to be valid. Counselor Troy sensed dissatisfaction because the Progressive Conservative Party went from a majority (about 150 seats) to 2 seats. Again, Troy sees the obvious. Ryker thinks he has an in with Lesbians because he went to a planet of all women who were also having sex and of course one of those women fell for Ryker. The retro '70s comment was about the fashions of the early '90s and also Chretien had been a Liberal MP under the Trudeau government in the '70s.
This cartoon was also published in some Brandon university paper. The student papers back then were linked by computers.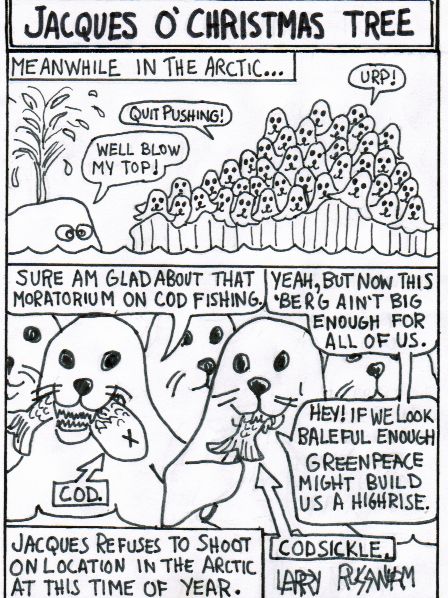 This was inspired by an obscure article buried in the Toronto Star. Apparently harp seal populations had increased dramatically since the moratorium on cod fishing in the Grand Banks of Newfoundland. One of the foods of harp seals is cod. The cod stocks never recovered in Newfoundland – apparently they started the moratorium too late.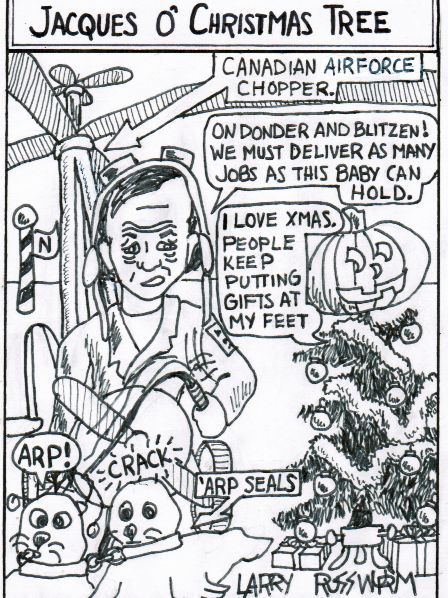 The poke at our military helicopters was because Chretien canceled a new helicopter purchase. Most of Canada was recovering from a recession which is why Chretien was trying to deliver jobs. My harp seal obsession in that year was because harp seals are cute and thus get attention. Lots of animal species go extinct every year and we never hear anything about them.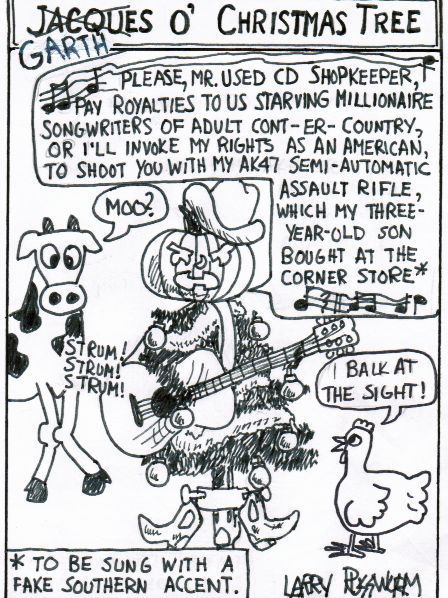 This is about Garth Brooks crusade at the time to get used CD sellers to give musicians a royalty off of every album they sell. It digressed into a tirade about how easy it is to get guns in the States (Garth is of course American). I regret saying the song should be sung with a southern accent. I would put southern 'twang' if I were doing this today. And yes, a lot of modern country still sounds like adult contemporary.